Verizon is giving the gift of groceries this holiday season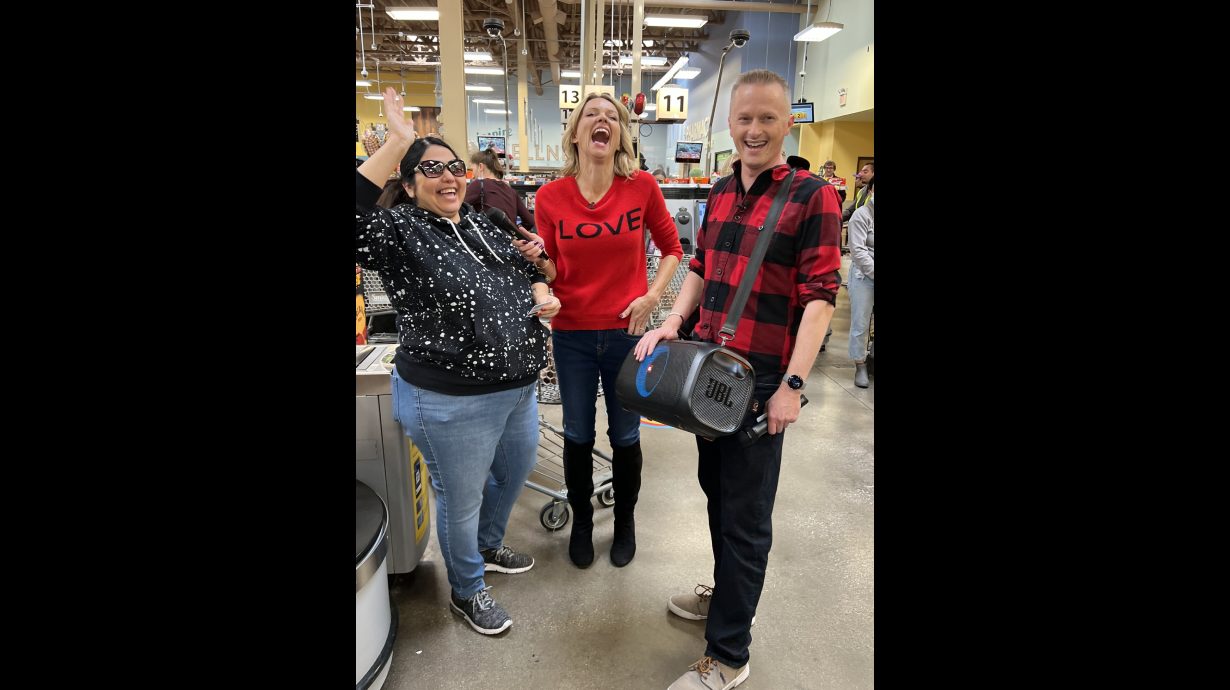 Part of the company's #ACallForKindness campaign, we're spreading holiday cheer, one kind act at a time

And speaking of cheer, this year Verizon will give you a free 5G phone with select trade-in and select 5G Unlimited plans. Plus, another great gift on us1, as part of its holiday promotion


LAS VEGAS - Verizon is doubling down on kindness this holiday season by kicking off local surprises that are likely to be the talk of the Thanksgiving table. Starting in Las Vegas and continuing in more than 10 additional cities, Verizon, the network America relies on, is teaming up with media affiliates, including ABC 13, and grocers including Fresh Encounters, Hy-Vee and Kroger, to spread kindness in the form of free groceries.
So why give away groceries? Earlier this year Verizon and Nextdoor conducted a research study with kindness.org to reveal the most effective, appreciated and cost-effective ways that neighbors can spread kindness in their communities. It turns out the #1 kindest thing someone can do is buy groceries for a neighbor - which made this a natural fit.
"We felt so good topping off people's tanks in the name of kindness this summer, that we knew we needed to do something during the season of giving," said Krista Bourne, COO, Verizon Consumer Group. "Budgets only get tighter around the holidays and we hope this surprise not only helps put more food on the Thanksgiving table, but inspires the community to do kind things for each other as well."
Verizon started its #ACallForKindness campaign in 2020, and now counts dozens of other companies as partners who are looking to make the world a kinder place, one act at a time.
Who wouldn't love some free groceries?! And speaking of value, we want to make sure folks in the community think of Verizon when they think of value this holiday season.
For instance, with Verizon Home Internet service and the Affordable Connectivity Program, eligible households can receive free home internet with Verizon Forward.Or, customers with an existing premium unlimited plan can get 5G Home, Fios 300 Mbps, or LTE Home for $25/mo with Auto Pay.2 And it's the gift that keeps on giving since those who sign up now will be locked in at that price for 10 years!3
There's also some great added value with our premium 5G unlimited plans, which unlock home internet for $25/month, and also additional streaming services. For instance, our new One Unlimited for iPhone plan includes Apple One - that's Apple music, Apple TV, Apple Arcade and iCloud+ for no extra cost4!
And deal-seekers are going to love our holiday promotions which include a free 5G phone when you trade-in your old phone and active on select 5G Unlimited plans, plus a new smartwatch, tablet, earbuds and more1 (service plan required for smartwatch and tablet) - so you can get a gift for you and a gift to give, on us! There are new deals every day, all season long so be sure to visit verizon.com/deals.
Verizon will not be promoting its grocery giveaways in advance, but will be sure to share as they take place! You can learn more about the #ACallForKindness campaign and join our pledge at verizon.com/kindness
Merdochey LaFrance Director, Government Affairs & Community Engagement